A study from Microsoft found that in just 15 years, the human attention span had reduced by 25%. In fact, businesses now have just eight seconds (or perhaps even less!) to capture and hold their audience's attention. Enter, video marketing.
Video marketing agency for professional services firms
Leverage the popularity of video
Over the past decade, platforms such as YouTube and TikTok have soared in popularity. Nowadays, the average consumer watches over 100 minutes of online videos every single day. As well as having enormous reach (almost 93% worldwide among internet users in 2022), videos also have a huge influence over viewers' purchasing decisions.
A recent study found that 95% of B2B buyers say video plays an important role in moving forward with a purchase, while 85% of consumers between the ages of 18 and 35 say they've bought something after watching a video.
The benefits of video marketing
Research demonstrates only too well how much businesses stand to gain from video:
91% of businesses use video as a marketing tool
96% of marketers say that video is an 'important part' of their marketing strategy
96% of video marketers say that video has increased user understanding of their products or services
90% of marketers say that video marketing has helped them generate leads.
92% of marketers say video delivers a good return on investment!
However, there are some particular pain points which firms consider a barrier to using video:
30% of businesses don't have time
18% don't know where to start
10% aren't sure they'll be able to convince key decision-makers of the benefits
That's where we come in.
Quality video content in minutes
While the benefits of video marketing are many and varied, they can be time-consuming to produce and require resource many firms don't have. Starting at just £175 plus VAT, our template videos cover a broad range of topics and can be produced in a few minutes. As an example, take a look at our End of Tax Year video:
If a firm would like to use one of our template videos but it doesn't offer quite enough flexibility, they can also commission us to produce a tailored version that is more in line with their branding and messaging, but at a more cost-effective price than a fully bespoke production.
The ready to use marketing campaigns we provide include a blend of compliance-approved, syndicated content, social media and video content, ensuring reach using website, email and social media platforms. We also have profile videos that help you promote your firm and team members.
Whether you would like us to produce a professional corporate video featuring an interview with your chief executive, a video to showcase some positive client testimonials, or an animated production featuring a cartoon octopus (yes, we're speaking from experience here), TOMD can help. The good news is that the same specialist professional services marketing knowledge that supports all our other content is behind our videos.
When you commission a bespoke video, we manage the whole project from brief to completion, including planning, filming, scripting, animation, voice overs, editing and distribution. We work to create a video that communicates the exact messages you want to convey and also represents your brand.
Creating a video marketing strategy
The great thing about TOMD's video marketing services is their flexibility. Depending on your goals and budget, you can choose to use our template videos, opt for a fully bespoke approach, or go for something in between.
If you've never used video before as part of your marketing strategy, we can advise you on the most suitable approach for your business. We'll help you research and understand the platforms where your audience spends time, the kinds of video messaging they are likely to be most receptive to, and the video formats they are most likely to respond to. Based on our findings, we can then recommend the perfect blend of template and bespoke videos for your business.
To kickstart your video marketing journey
We're here to help ensure that your video marketing strategy is fully integrated into your wider marketing plan, and that it contributes to meeting your overall marketing and business objectives.
Get started with video marketing for just
£175
+VAT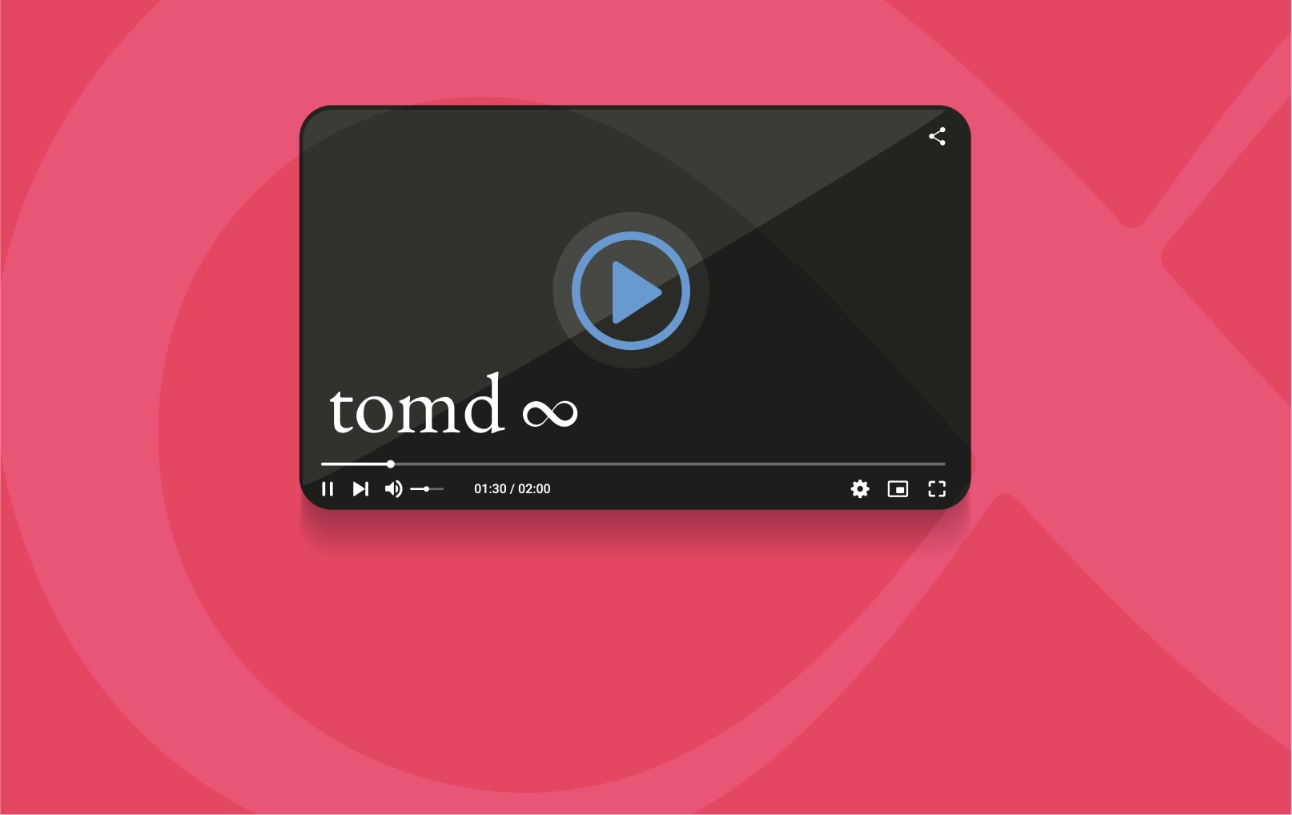 Get started with video marketing for just
£175
+VAT
Receive the latest insights, offers and advice to help you help your clients
We'd love to hear from you
To find out how we can help you achieve your marketing goals and grow your business, please get in touch.