Autumn Statement 2023 – Available now!
To order email info@tomd.co.uk or call 01279 657 555.
Our Autumn Statement 2023 campaign is now approved and available – you can order this via your store account now!
Introductory offer: £95 +VAT for the video or just £150 +VAT for the whole package of items (if you are a Communication Package subscriber, you receive all items except the video in your package).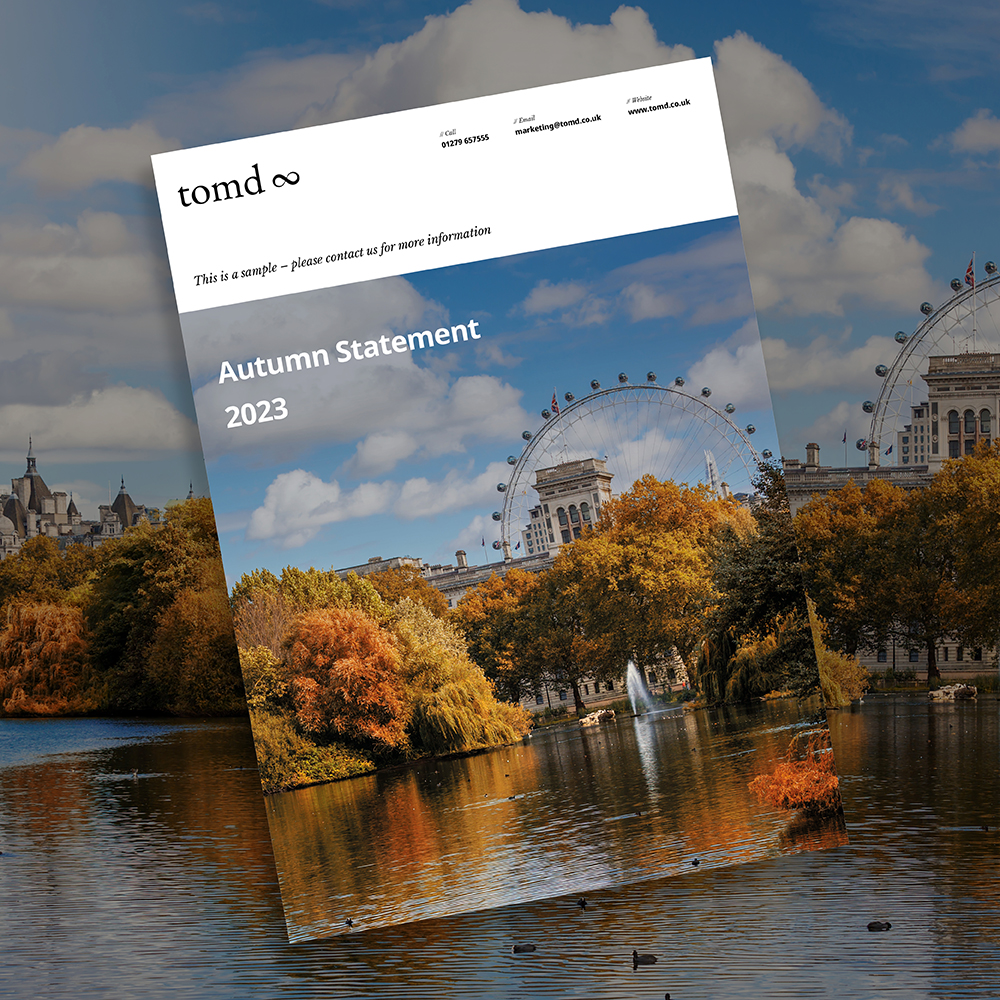 Boost your clients' understanding
Video is a perfect way to transmit complex messages and information to your clients in a visual, easy-to-understand and highly memorable format.
The Autumn Statement 2023, taking place at a time of political upheaval, contains changes to taxation and fiscal policy that will have a direct impact on your clients' finances.
Our professional, compliance-approved videos, personalised with your company name, logo and contact details, are now available. It's the perfect way to start using video as part of your client communication programme. There are two versions to choose between: our simple but sophisticated text-based version that uses colourful text and iconography, and a more traditional video that uses professional video clips for a newsreel-like feel.
Containing topical and highly relevant information presented in a simple yet engaging fashion, our video will help you stand out from your competitors, drive traffic to your website and encourage clients and prospects to get in touch.
Get yours now with our INTRODUCTORY OFFER
Our video can be used alone or can be purchased as part of a package that also contains a professionally designed PDF, an HTML email template, social media posts, a text-only Word document and more.
And, with our introductory offer, you can purchase the video for just £95 + VAT or everything you need for a multichannel marketing campaign with the full package, at a cost of just £150 + VAT.
What's available if you choose the whole package?
This campaign is ideal for engaging and informing your clients across multiple channels, including your website, email and social media. You can either buy individual elements or the whole campaign:
A video (available in two different styles) – a punchy, engaging overview of the key Statement headlines – ideal for use on social media to drive traffic to your website. You can choose from either a video with icons or one with video clips. You can view examples of the Spring Budget videos below.
A PDF document – a four-page, in depth A4 document covering all the major Statement announcements – add to your website or send out physical printed copies. To view a previous version of this, use the link here.
An HTML email template – the publication in a professionally designed email format, ideal for emailing to your clients.
A Word document – a text-only version of the full publication, for deployment as required.
Social media posts – to accompany the PDF and video – use these to help you drive traffic to the text on your website.
Short form email content – a short summary you can email to your clients, encouraging them to read the text on your website.
A campaign guide – for suggestions on how to deploy the campaign elements for best results. You can use the link here to get this.
Personalised with your details
The videos can be personalised with your logo and contact details.
The Statement in PDF and HTML formats can be personalised with your logo and contact details. For an extra cost, printed copies are available.
The Statement, social media posts and short-form email content are all available as Word documents.
All of the items have been pre-approved by some networks and service providers. You will need to be sure that they meet your requirements.
All of the items listed above are included in the campaign package, which costs just £150 +VAT (only one video per campaign package).
These items are also available to buy separately as per the costs below:
Video: £95 + VAT 
PDF: £75 + VAT (to also convert this into a digital flipbook, add £30 + VAT)
HTML: £75 + VAT
Word document: £75 + VAT
Print: Prices start at £92 (no VAT) for 25 copies (plus delivery fee).
If you pre-ordered a video, provided we have received payment and the details needed to create this, this will be sent to you as soon as possible. Please get in touch if you have any queries on this.
If you want to order a video, in order to produce your personalised Statement video, we will need:
A choice of which video you want to order
Your company logo – please send this in the highest quality format you have available, for example an EPS, PNG or high-quality JPG file.
Your company telephone number
Your company email address
Your company website URL
This should be available as soon as possible on the 23 November, providing we have received your payment.
You can see examples of each different available video here:
Video clip version example
You can click
here
to log into the online store to pre-order the campaign. Or, if you would like more information, you can email or call us and one of the team will be in touch.