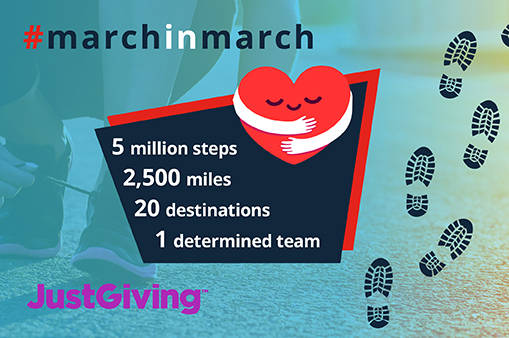 Marching In March
1st March 2021

This month, the TOMD team is taking on a virtual walking challenge around the UK to raise money for Charlotte Sawyer, a four-year-old girl fighting a rare form of cancer. You can follow our progress below and donate by clicking here.

31st March 2021
Five million steps later, our Marketing & Operations Executive, Rita, crossed the finish line of the TOMD team's epic virtual 2,500 mile walking tour of the UK, with her husband and son helping her along the final 25 mile stretch from London to our office in Sawbridgeworth!
30th March 2021
We're approaching the end of March, meaning that the end of our five million step virtual tour is nigh! Helping to complete our penultimate stop is our Marketing & Content Specialist, Chloe, who's making her way to London from Horsham. Before she reaches the capital, though, she's stopping off to visit a valued client in Wokingham!
29th March 2021
Our Director, Mike, is taking a trip down memory lane on his way from Southampton to Horsham – stopping off at his hometown of Worthing in tribute to his junior school football playing days, before visiting some other places he lived in Brighton on the way.
26th March 2021
From Land's End, we're on the home stretch back to Sawbridgeworth (although there are a good few hundred miles to go yet)! Our Head of Digital, Lisa, took along her son, Albert, as a walking buddy on her stretch of the TOMD virtual walking tour, travelling 222 miles from Land's End to Southampton.
25th March 2021
We've done John O'Groats, and now it's time for Land's End, at the westernmost tip of Britain. Rachael, our Corporate Marketing Manager, took over in Cardiff and made the 223 mile trek down to the stunning destination, which is well known as a starting or finishing point for the popular journey to or from John O'Groats.
23rd March 2021
From the wilds of Snowdonia to the big city, Cathy walked 143 miles across Wales to reach its capital city of Cardiff. Along the way, she took in the landscape of Brecon Beacons National Park, including Pen y Fan, the highest mountain in Southern Britain.
22nd March 2021
Taking over from Grace in Manchester, our Technical & Content Director Jo took the team to Wales for the first time, finishing her leg of the tour in Snowdonia National Park. Covering 823 square miles of outstanding natural beauty, the Park is home to the highest mountain in England and Wales and Wales's largest natural lake.
19th March 2021
The next leg of our TOMD virtual walking tour is not so virtual after all, with Grace walking 203 miles from our previous stop, Belfast, to her home in Manchester!
18th March 2021 
Amanda is taking over from Mariana on the next steps of the TOMD virtual walking tour. She walked 68 miles along this beautiful stretch of coastline and completed her journey in Belfast – the capital city of Northern Ireland!
17th March 2021 
As well as walking the length and breadth of the UK, the team is performing miracles to get there. Mariana walked (or rather rode) on water to cross the sea between Glasgow and Derry, setting foot in Ireland for the first time on the tour!
15th March 2021 
From the northernmost tip of the UK, the team is now making the long journey south on our virtual walking tour. On the first leg of our southward journey is Monica, who is walking the 278 miles from John O'Groats to Glasgow!
12th March 2021 
Our next team member, J-P, also has a dog in tow as he and Teija make their way from Aberdeen to John O'Groats – the northernmost point of mainland Great Britain. That's 888 miles collectively walked by the team so far – stay tuned for the next 1,612!
10th March 2021 
Taking over from a tired Chris after her marathon trek to Edinburgh, our Corporate Marketing Manager, Clare, and her very cute pup, Wicket, made the 121 mile trek from Edinburgh to Aberdeen – Scotland's whisky capital!
8th March 2021 
From Huddersfield, our Head of Corporate Marketing, Chris, walked an epic 208 miles up to Scotland's capital and cultural centre, Edinburgh. First, though, she stopped off in Leeds for a client visit before walking to her hometown of Darlington.
5th March 2021 
It's the turn of our Marketing & Projects Executive, Jasmine, to be the face of TOMD's virtual walking tour. She made her way up to Huddersfield, but not before stopping off at her hometown of Newcastle-under-Lyme on the way. Keep following to track the next leg of our journey, taking one of our team members all the way up to Edinburgh!
4th March 2021
Second up on TOMD's virtual walking tour of the UK is our Web and Digital Assistant, Charlie. Taking over from a tired Nicola in Norwich, he marched the 302,000 steps up to Birmingham – the youngest city in Europe! Stay tuned to follow the team's next steps as we venture further up the country.
2nd March 2021
Our Head of Design, Nicola, started out on the first leg of TOMD's virtual tour of the UK on the first of the month, making a quick stop in Cambridge to 'visit' a client before heading on up to Norwich. With the sun shining, she made quick work of our first leg of the tour. So that's 92 miles racked up, and only 2,408 miles left to go… wish us luck!