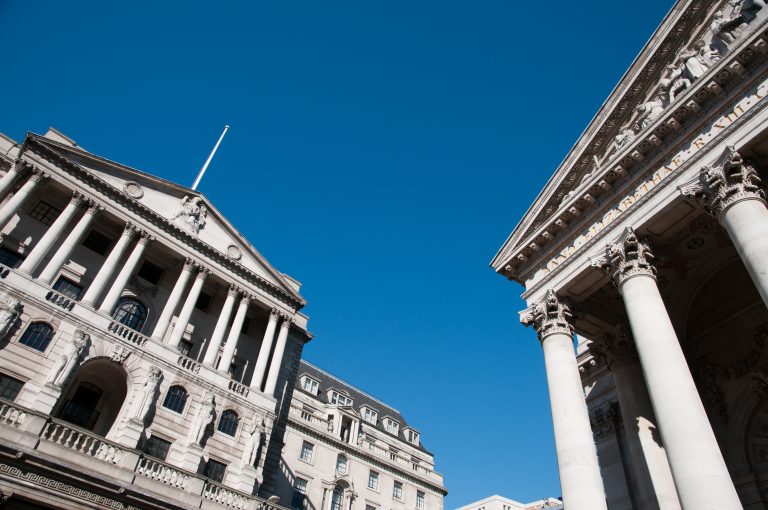 Blog: Governor not often a BoE insider
14th December 2020

Almost a year ago, on 20 December 2019, Chancellor of the Exchequer Sajid Javid announced Andrew Bailey as successor to Mark Carney as Governor of the Bank of England. By the time Bailey took up his new post on 16 March, a few days before the UK's first COVID-19 lockdown, Rishi Sunak had replaced Javid as Chancellor; Governor and Chancellor both wearing L-plates, it seemed.

There was some controversy when Javid chose Bailey from a distinguished and diverse shortlist of candidates. It had been an opportunity to appoint a female, as all Governors (and Chancellors) to date have been men. Javid probably figured that a Governor starting their term in the year of Brexit transition would need to hit the ground running and respected BoE lifer Bailey knew the ropes well.

In the event, the global pandemic rather than Brexit dominated the early months of Bailey's eight-year tenure. Like his Whitehall counterpart Sunak, Bailey rose to the challenge and has been widely seen as a stabilising force in turbulent times. This may reflect the value of experience across the BoE's work, though more often than not Chancellors select an outsider for the Governor role.

Looking back over the past 50 years, outsiders have been in charge for 37 years and career BoE officials for just 13 years. The pattern among Bailey's predecessors since 1970 has been one insider followed by two outsiders and again an insider then two outsiders. Bailey's term will help redress the balance in years; and perhaps his successor will be a woman, whether insider or outsider.

So, Bailey is just the third insider Governor in half a century and one of the two previously to have held the position of Chief Cashier and have their signature on BoE banknotes. Three of the five Chief Cashiers in post since 2000 have been women, though the job has been losing some of its cachet as banknote use has slumped; contactless payment was gaining ground rapidly before COVID-19 struck.

Five lords and no ladies

In 1970, Sir Leslie O'Brien was four years into a seven-year stint as Governor. He joined the BoE straight from school in 1927 and worked his way up to become Chief Cashier from 1955 to 1962. He became a familiar name at the time, with his clear L K O'Brien signature adorning BoE notes from 10 shillings (50p) upwards. After serving as Governor (1966-73), he became Lord O'Brien of Lothbury.

To call O'Brien's successor Gordon Richardson an outsider is slightly misleading, as from 1967 to 1973 he served as a non-executive director at the BoE, alongside his day job as a senior merchant banker. After Cambridge University and service in WW2, he had qualified as a barrister but switched to banking. Governorship (1973-83) was followed by a peerage as Lord Richardson of Duntisbourne.

Next in line, Robin Leigh-Pemberton, was from a Kent landowning family. After Eton and Oxford, he served in the Grenadier Guards before pursuing law. He combined the country life with local politics. Years on the local board of NatWest Bank led to the main board and chairmanship. A surprise choice as Governor (1983-93), he oversaw the City's 'Big Bang' and rose to the peerage as Lord Kingsdown.

Leigh-Pemberton's successor, Eddie George, who also served two five-year terms (1993-2003), was a hands-on central banker who had supported him during the 1992 EU ERM crisis. After Cambridge and the RAF, economist George joined the BoE in 1962. After time at the IMF, he advanced steadily. As Governor he brought about BoE independence. He became Lord George of St Tudy in 2004.

The next Governor, appointed under Chancellor Gordon Brown, was academic economist Professor Mervyn King. Like Richardson, he was a non-executive director before starting his double term, from 2003 to 2013. He was in charge of the BoE's response to the global financial crisis that saw its base rate cut to 0.5% in March 2009. Following his term, he entered the peerage as Lord King of Lothbury.

Surprise choice

There was some surprise when Chancellor George Osborne selected Mark Carney, a Canadian with British and Irish citizenship, to replace King. Ex-Governor of the Bank of Canada, Carney introduced forward guidance on interest rates that proved unreliable, but was strong on environmental and ethical issues. During his extended 2013-20 term, he accelerated the launch of polymer BoE notes.

With the appointment last March of Andrew Bailey, who joined the BoE in 1985, an insider was at the helm after a 17-year gap. His was a baptism of fire, with COVID-19 heaped onto Brexit flames. Maintaining financial stability and steering monetary policy successfully through unprecedented times gives Bailey the opportunity to prove himself among the best post-war BoE Governors.

As to the question of whether Bailey's 2028 successor will be an outsider, repeating the established pattern, this may by then be secondary to wider questions about diversity. The BoE's appointment of three female Chief Cashiers within two decades, after three centuries with none, is a clear signpost for the direction of travel and it has seven years to bring on home-grown candidates.