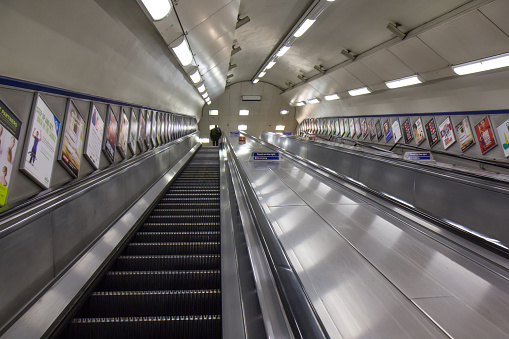 Tube ads stuck in dark tunnel – sponsors could shine a light
6th October 2020

It's been reported that, to raise extra revenue for London's transport system, corporate sponsorship of stations on the rail network could be offered. This could generate a large amount of money, bearing in mind that Transport for London operates hundreds of Underground, Overground and DLR stations. Next year it should have two more, Nine Elms and Battersea Power Station on the Northern Line extension, and Crossrail is due in 2022.

Among the suggestions to emerge is that Knightsbridge station on the Piccadilly Line could become 'Harrods', if the landmark store were willing to pay handsomely for the privilege. Some stations already signpost local attractions: Arsenal (near the old Highbury ground) also on the Piccadilly Line; Kew Gardens on the District Line; and Oval on the Northern Line. They've all had a freebie so far.

So, what are the chances of major corporate sponsorship of TfL stations? Quite high, it seems, if other metro systems around the world, a number of which gain extra revenue that way, are anything to go by. That's just as well, as the TfL farebox has been looking a lot emptier since the onset of the pandemic than it did beforehand and advertising revenue has also suffered.

TfL's £3.4bn target

On the subject of advertising, the TfL website says "Our advertising strategy team are part of our ambitious programme to generate £3.4bn in non-fares revenue over the next ten years. The money generated will be invested back into the transport network and help to keep fares down. We do this by offering businesses the opportunity to connect with a particularly powerful audience: the London commuter.                                                               

"Millions of passenger journeys take place across our network every day and our media partners can help you reach this audience. Engaging and entertaining opportunities on the Tube, trains, trams and buses, as well as roadside estate, are a real opportunity. We can help your business do business by positioning your message in front of this influential, demanding, and active audience."

For now, there are fewer passengers to see advertising on the TfL network; but it's easy to see how getting a corporate message across to a captive audience while they wait on the platform, gaze across the carriage or (more briefly) pass by on an escalator is very appealing to some advertisers. After all, people on the move are likely to be travelling to earn or to spend some money.

Horse-drawn adverts

This point was grasped early on and even horse-drawn omnibuses had panels for adverts. So, by the 1930s London Transport had people at its HQ above St James's Park station focused on ways to lift ad space receipts. The war years put a damper on this, but things picked up again in the '50s and '60s. Soon there was advertising all over the London Underground, much of it carefully targeted.

As now, commuters often worked in finance so were conscious of the benefits of life insurance. This was exploited in a series of poster adverts facing Tube platforms placed by Refuge Assurance. Each featured a monochrome photo of an attractive UK town or city and carried the caption 'Wherever you live, you need Refuge for life'. Mergers eventually saw Refuge become part of Royal London.

On board trains, Tube car panels were popular by the 1960s. One regular advertiser was the Location of Offices Bureau, a government offshoot set up in 1963 to urge firms to move out of London and cut commuter numbers. LOB was less successful than COVID in that. One LOB ad featured Longmans Green (Pearson), who'd moved to 'modern' offices (since rebuilt) at Harlow Town station in Essex.

Typists and journalists

A third name unfamiliar in 2020, Speedwriting, also promoted itself on the Tube. Its simpler alternative to shorthand was pitched to typists and journalists with a handwritten message something like 'gt a gd jb wi mo pay'. By then, recording devices were starting to reduce the need for shorthand typists and 'th wrtg ws n th wll' for Speedwriting, which suffered a lingering demise.

If Emirates can sponsor the Spinnaker Tower in Portsmouth, American Express a soccer stadium near Brighton and lastminute.com the London Eye, there may well be potential sponsors for the likes of Bond Street and Barbican stations. Mudchute on the DLR could be a trickier sell.